A lot has happened here since my last update many good things as well as bad. With this post I will cover all the good stuff up front then discuss the bad at the end. If you want to skip directly to my bad news then click here
I am a property owner!
With the help of Amay I was able to raise the down payment for the property. I am now the legal owner of 8.5 acres in Fiddletown CA! Thank you ever so much! My mortgage payment is approx $1,300 so I decided to get a job. I am now working as a cook at a wonderful restaurant and have a 45min commute.
Finishing up my Garden Fence
I put a gate on my garden fence. It looks a bit crooked but it is square. I made it removable so I can easily move large objects in and out if I ever need to. I split some posts into fourths in order to keep it lightweight. This worked rather well.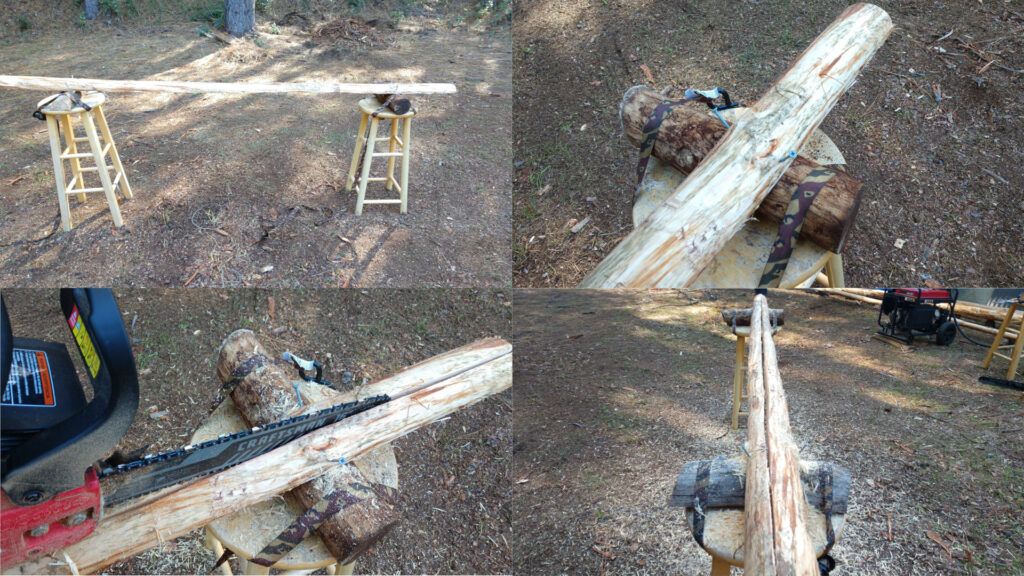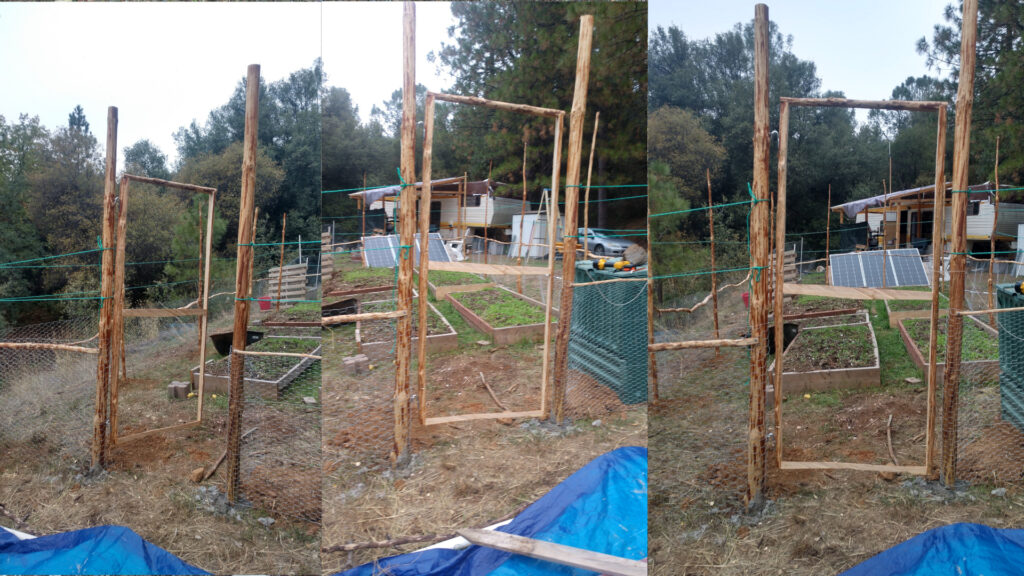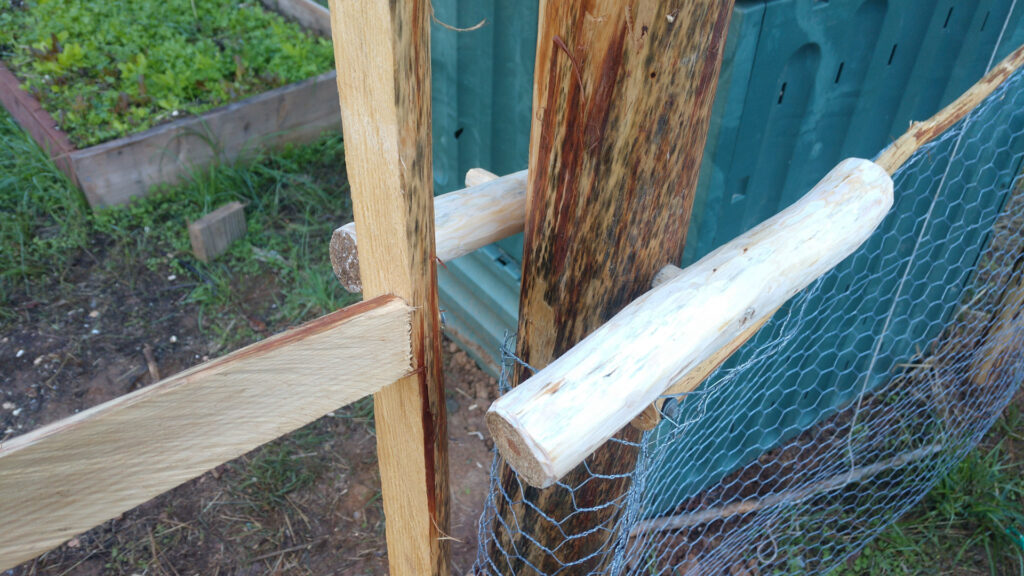 Making a Chicken Coop
I then decided that I needed chickens. If I'm going to have chickens then I need a coop for them to shelter in. I made a chicken coop using the wattle technique. It's not at all air tight, but it should provide some protection for them. I like the way this turned out but I may replace it in the future if it doesn't work well.
I made it so the roof is hinged so it is easy to lift and gather eggs from the nesting boxes. I also used the split pole technique which is actually a PITA to work with, but I made it work.
The idea is to be as light weight as possible so I can drag it around to different chicken paddocks.
The coop has so far survived crazy fast winds, rainstorms and two snow storms, all the while the nesting boxes stayed bone dry. I'm pretty impressed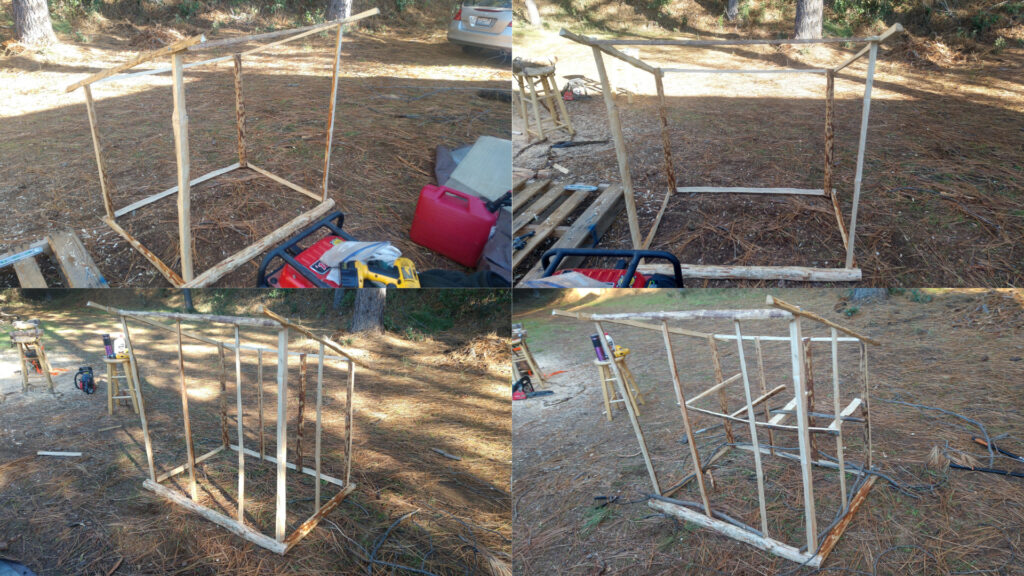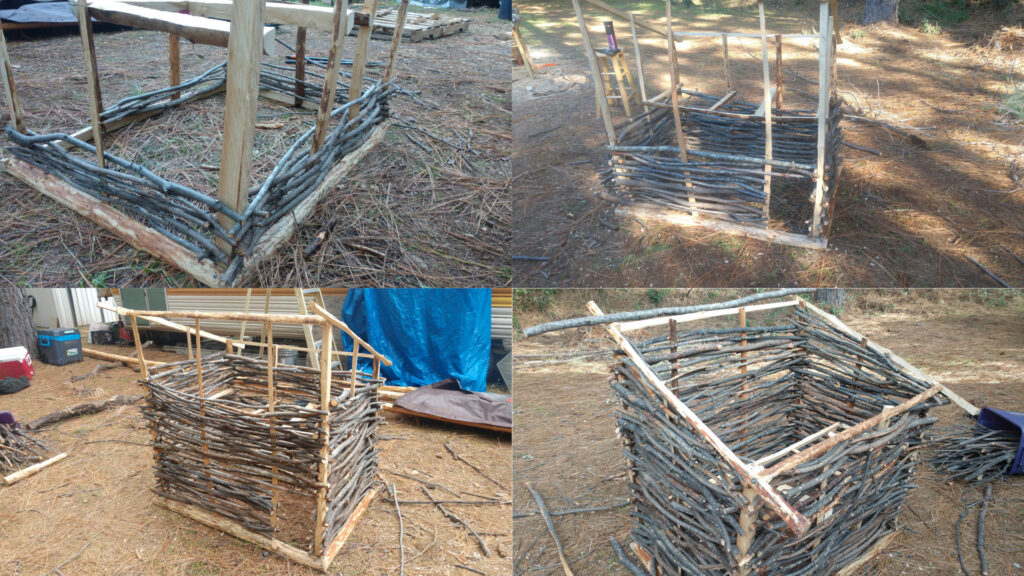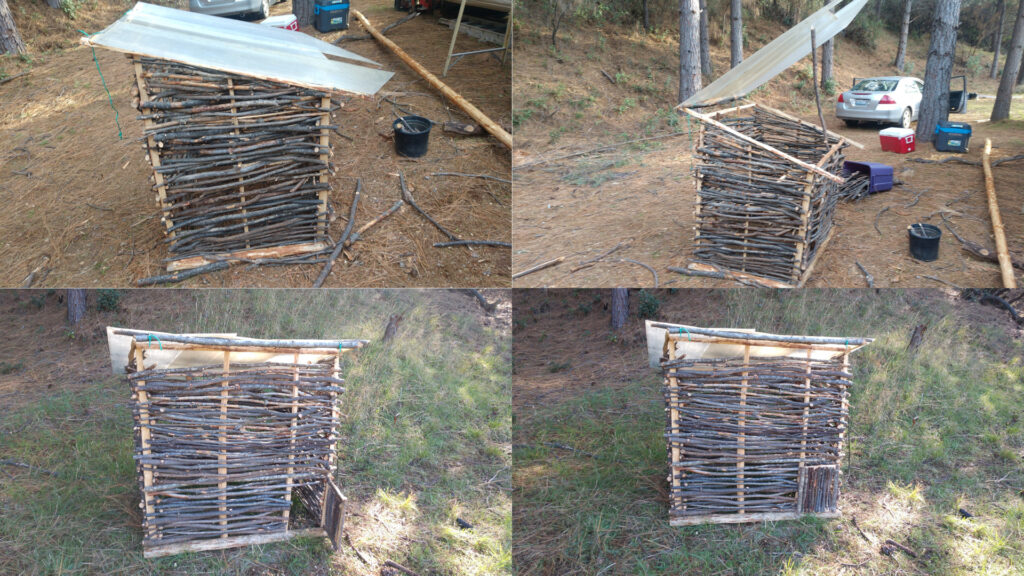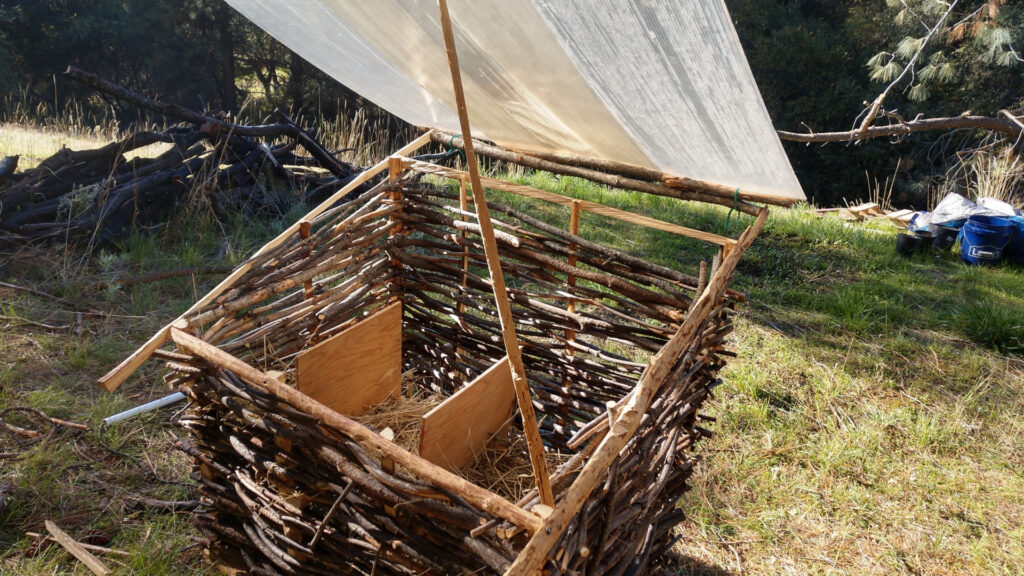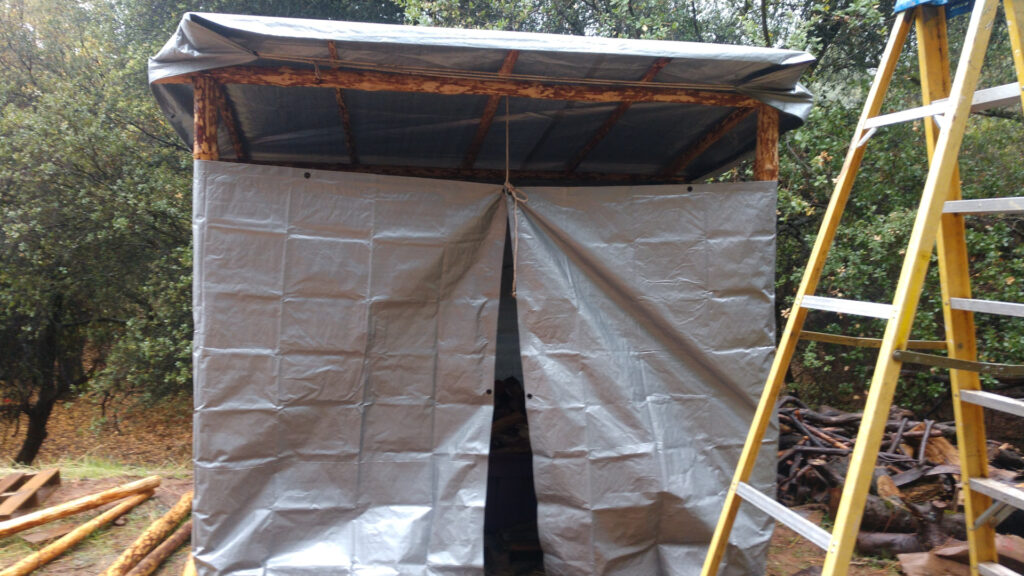 My First Sawbuck
Since I have been working with round wood so much I figured that I needed a saw buck. This is so much better than destroying the stools that I've been using as sawhorses.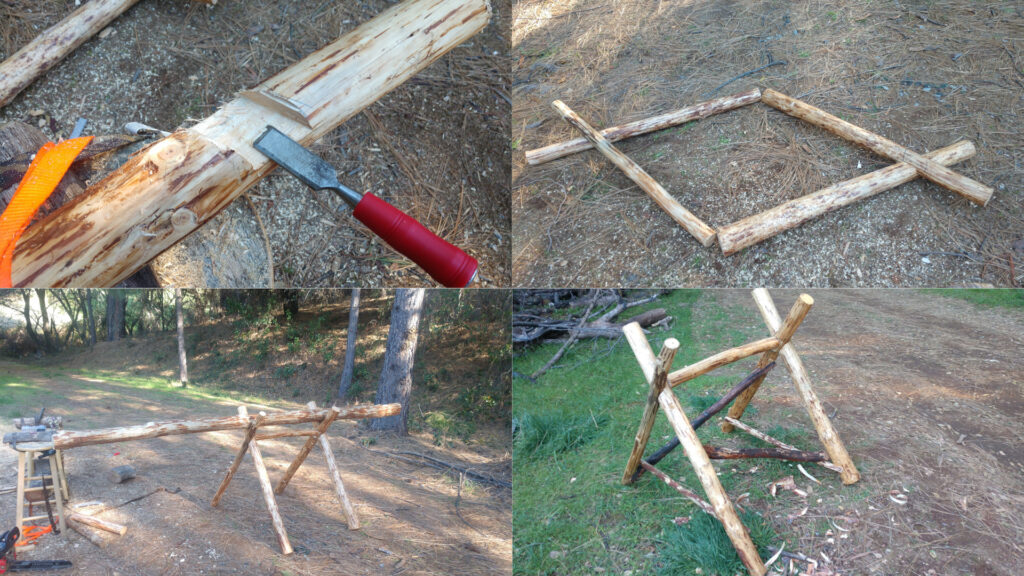 White Christmas, almost
It snowed like mad right after Christmas. It was very beautiful but I'm glad that it's gone now.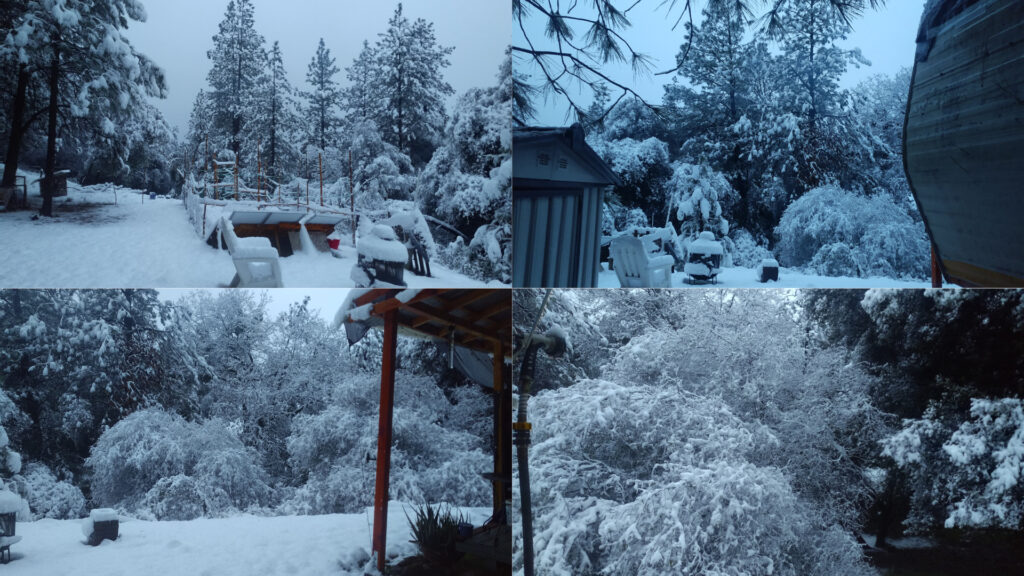 Building a Road Gate
I had a visit from the Department of Making You Sad so I built a gate to keep them at bay. This gate is inspired from the gate at Paul Wheaton's Lab property. Due to the magic of physics, leverage, and counter weights it uses only one hinge (a 12″ spoke) and balances on it's post. It's very easy to open and close.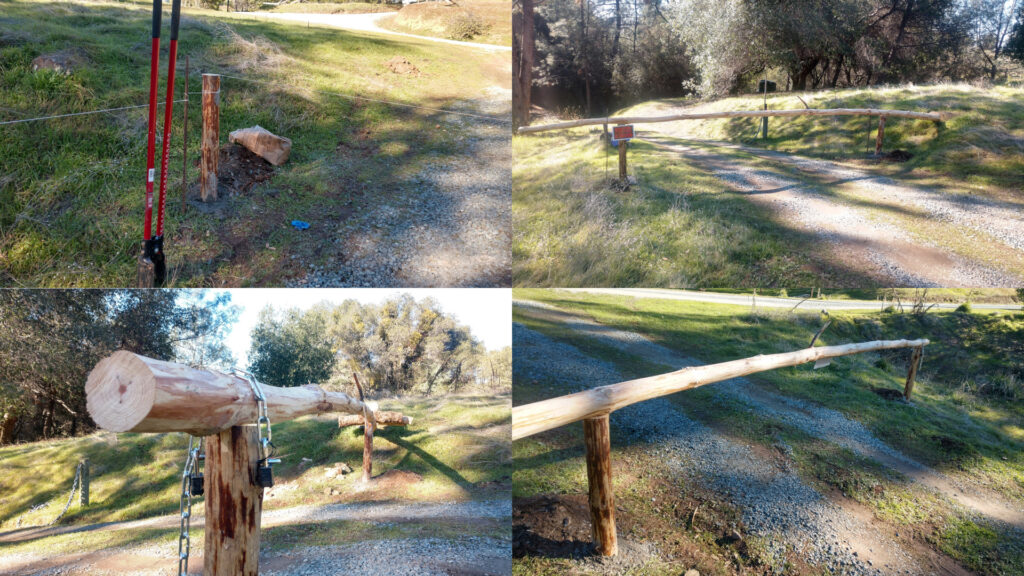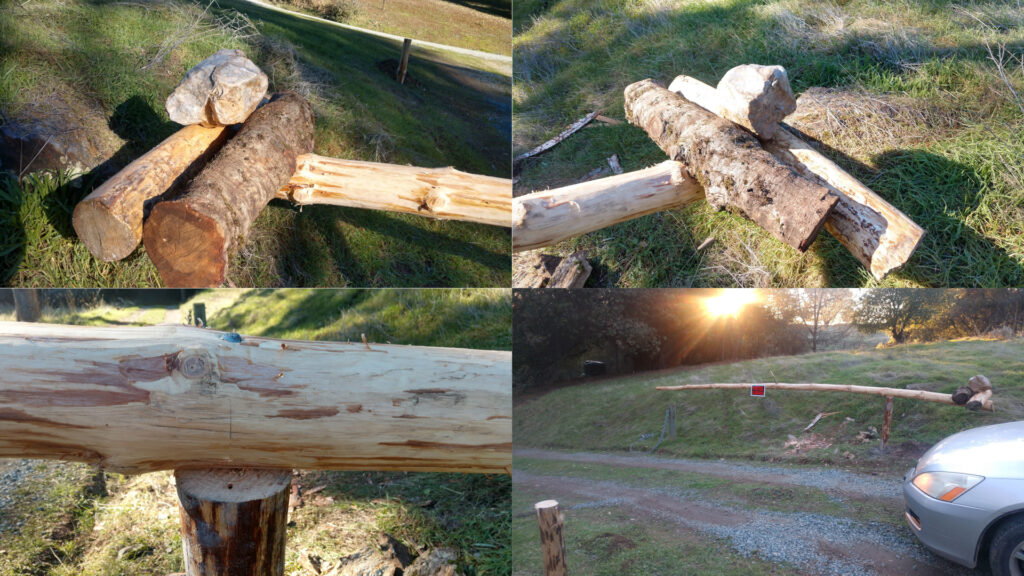 The "Department of Making you Sad" pays me a visit.
I will try to make this accounting brief. Earlier this month I heard a very aggressive pounding on my trailer door. Upon opening my door there was no one standing at it. There were however two people standing on the ground behind my door (door swings outwards.) This was a bit disconcerting to say the lease.
Two individuals a man and a woman in a mask. Their introduction to me was "We're from Code Enforcement. You can't camp here" I explained to them that I just bought the property. They thought I was the previous owner. I identified myself.
We then had a a long calm yet passionate discussion regarding Amador county's laws regarding living in an RV. I tried to be a civil as possible and only called them Nazis once. I politely told them that they were no longer allowed on my property without a warrant.
The "long story short" of it is that I have been given notice to cease camping on my own property. I have until February 18th to comply or I can be fined $500 and / or 6 months jail time per day that I am in violation.
Needless to say that I'm very distraught about this and I'm not really sure what I'm going to do. I gues I could pitch a tent behind the Jackson Walmart, which for some reason is perfectly fine. I just can't pitch a tent on a property that I legally own. We are definitely in upside down world.
If you have any suggestions please send them my way. kolomona@kolomona.com
In the meantime I think I will need financial support more than ever. Please visit my Support page.
---
All Walkabout Posts, in order
I'm Going on a Sabbatical
The Journey Begins
Intro to Paul Wheaton and his Permaculture Properties
Walkabout Update 2 Wheaton Permaculture
Walkabout Update 3 Wolf Flats Idaho
Walkabout Update 4 Great Salt Lake Area, Utah
Walkabout Update 5 Vegas and Fiddletown CA
Walkabout Update 6 Off Grid Living
Walkabout Update 7 Lots of Rain and a Deer Fence
Walkabout Update 8 I am Soon to be Homeless With a Mortgage