Dateline: Fiddletown, CA
For info about how you can support me visit My Support Page – It's all about value for value for value.
I should probably come up with a different name as I'm no longer "walking about", but for now it'll have to do.
Turkeys, Turkeys and More Turkeys
There are turkeys everywhere, they're almost a nuisance. I need to find out if it's legal for me to live trap them and put them in a coop and run. I love the idea of raising wild turkeys. That way I don't need to put them in a freezer, just keep them alive.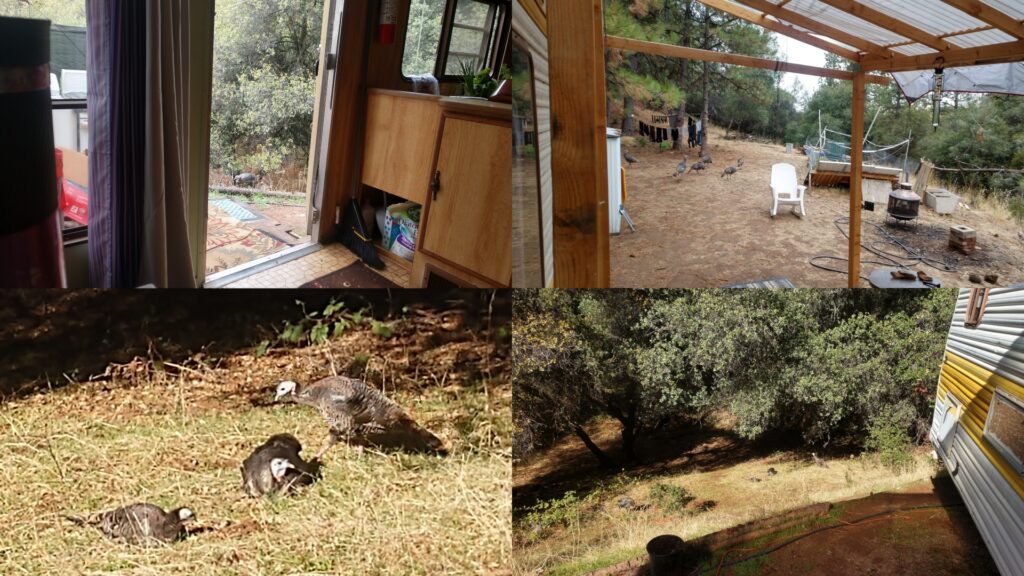 Much Needed Garden Deer Fence
Lately I've been pretty well settled into a routine of cutting trees, stripping bark and planting poles in the ground. I'm getting pretty good with the chainsaw. The tallest tree that I fell had been about 40 foot tall, and I still have all my toes.
I'm making an 8 foot tall fence to keep the deer out of the garden. I have some 3 foot chicken wire that will surround the base, then I want to put 7 foot deer netting up the remainder of the height of the poles.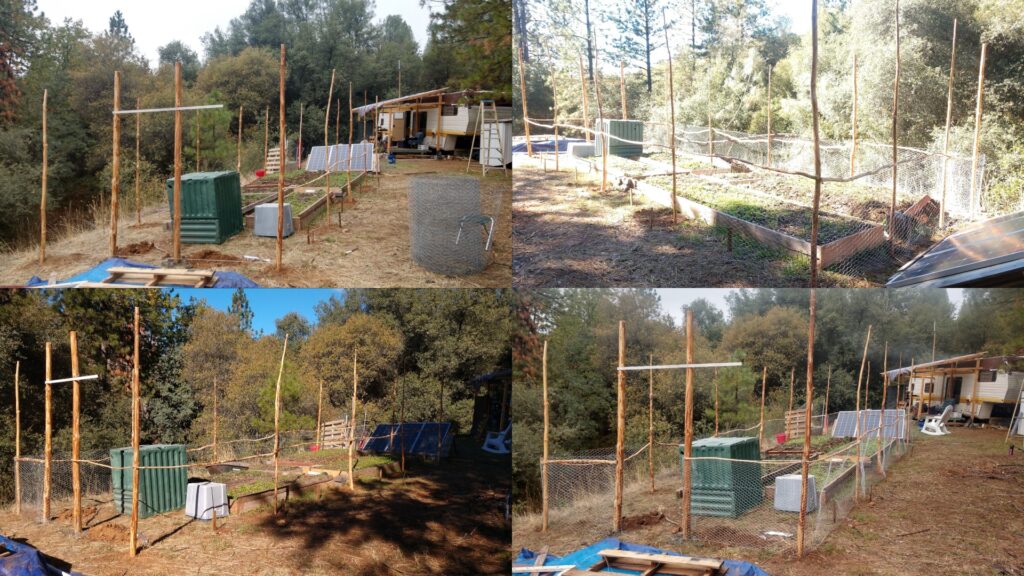 As of this writing I've finished everything except making and hanging the door. I don't have the deer netting yet so I went to the dollar store and bought 40 ft lengths of rope that temporarily I tied around the poles. Hopefully this will work to keep them out until I get the netting.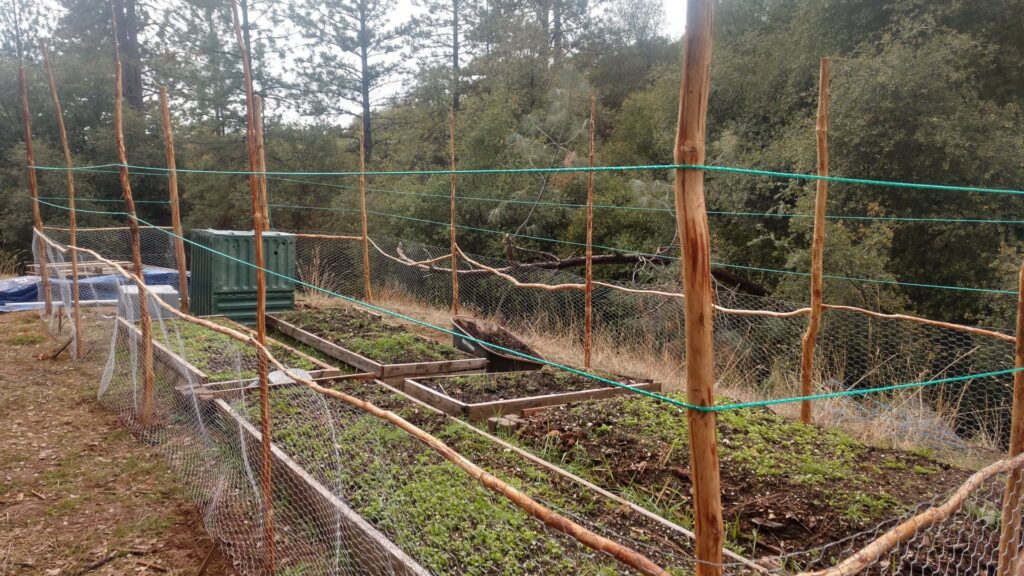 Making Homemade Pine Tar
I've been harvesting the pine sap from the trees that I've cut. I made some pine tar which I want to mix with some linseed oil and coat the poles of the woodshed with to help give some weatherproofing. If I can gather enough I'll do the same to the garden fence.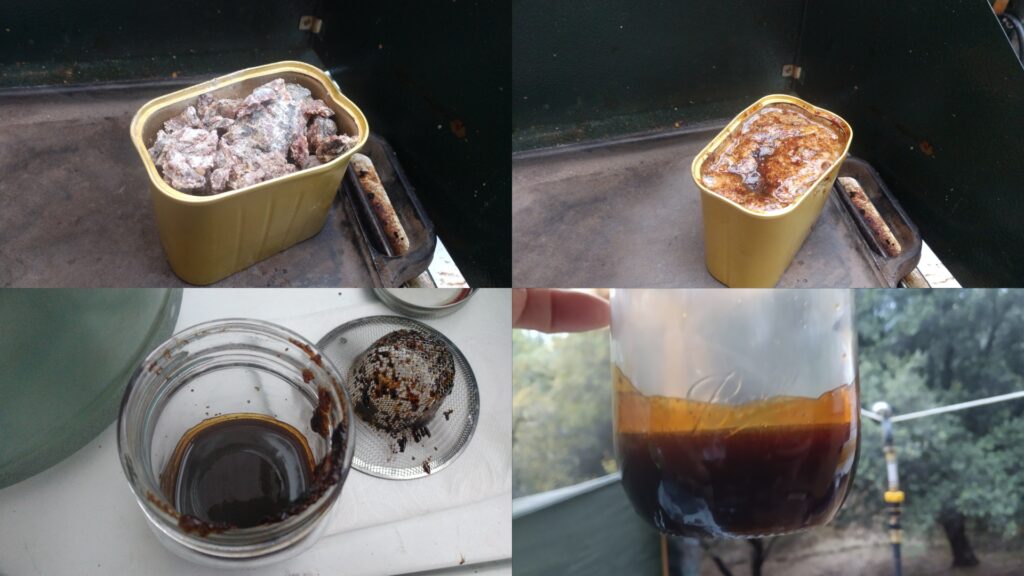 A Ton of Rain in One Day
On October 25th we had nearly 6 inches of rain in one day. It was crazy! Fortunately, it afforded me the opportunity to see how the water flows on the property. There are 3 main channels that water enters into the land, two are through culverts that come from the road and the third into a small gully from the neighbors property. Everything drains into a main drainage gully that runs through the property.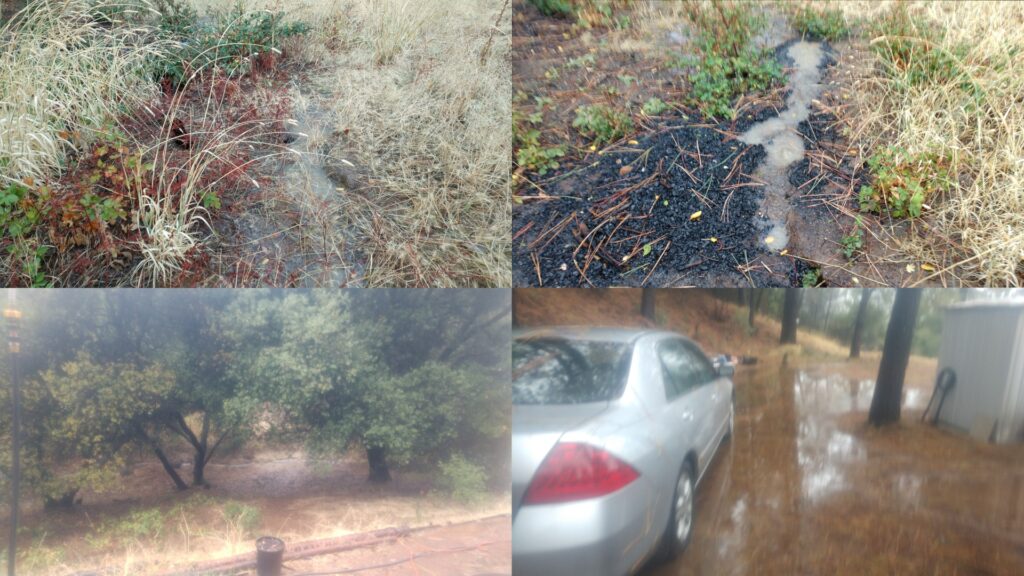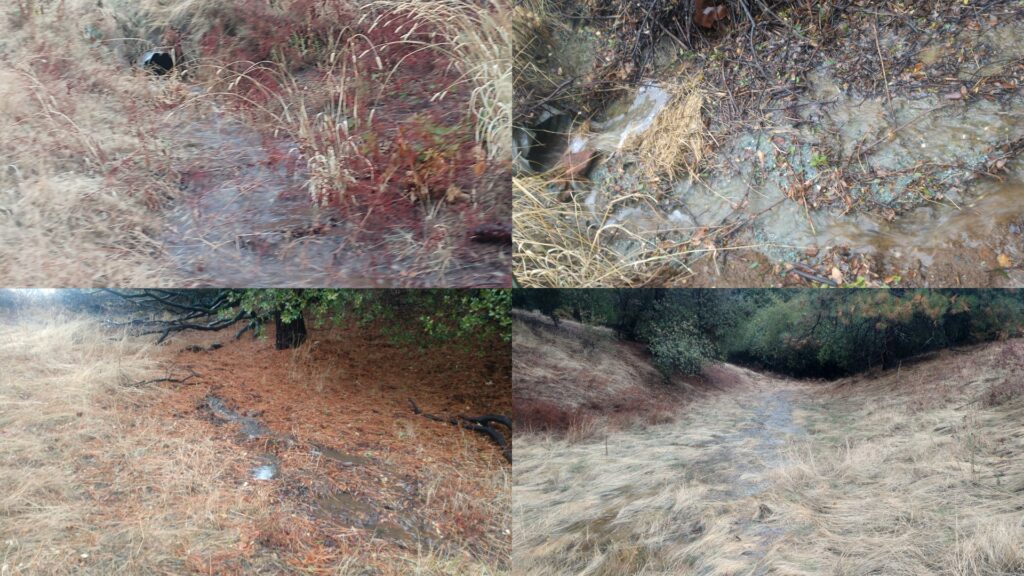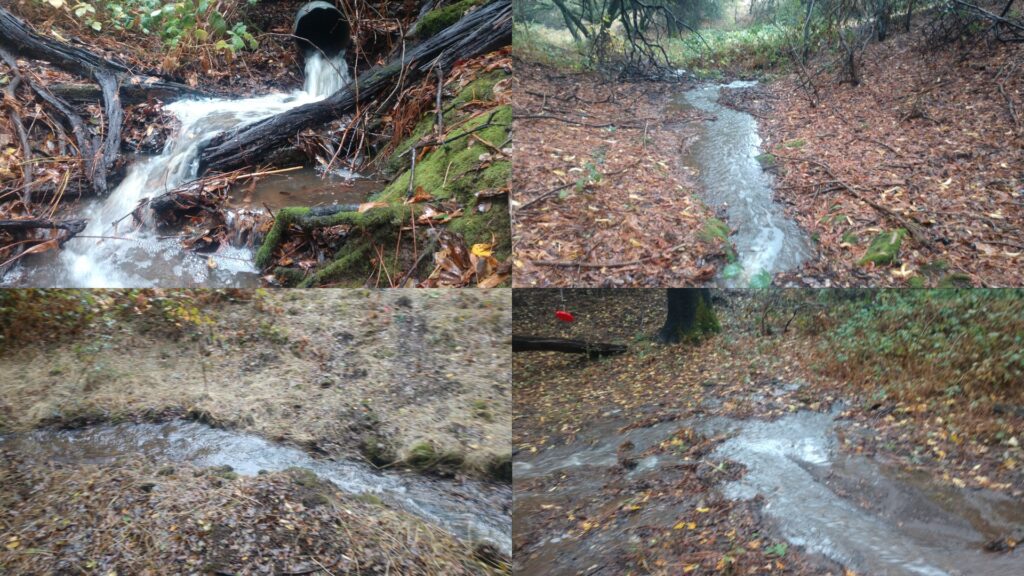 In the northeast valley I noticed that the water was just digging straight through on it's way to the bottom. Those familiar with permaculture will know that it is important to harvest water on one's land. That is, to slow the water down and keep it on the property for as long as possible. This way it can hydrate the soil and recharge the aquifers. This also has the effect of greatly reducing soil erosion.
Just for fun, I experimented by cutting in some channels just a tiny bit off contour. This had the effect of moving the water out laterally and saturating the ground quite a bit.
I then started to think that I really need to put some hard thought into this subject. This property has some very steep slopes and the soil is heavy clay. Too much saturation can cause instability and possibly create landslides. That said I do believe there opportunities to put a series of ponds on the property that if done properly could possibly last year 'round and provide much needed moisture especially if there's a wildfire.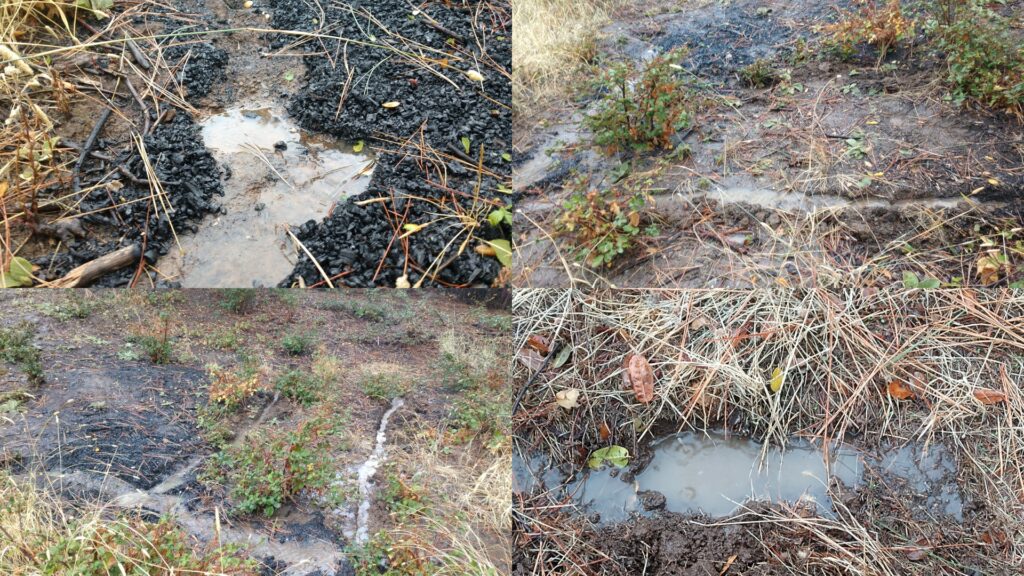 What's Next?
I've been getting the bug to propagate plants. I realize that it's the wrong time of the year so I thought I'd build a greenhouse, but that's kind of a big project. I decided instead that I will build a cold frame first. After I tackle the cold frame I want to try out building a lightweight round wood chicken coop then get some chickens. Eggs are getting too expensive!
How You Can Help!
Yes, every post will have a section where I will kindly ask you to send me some value in return for any value that you have received from my adventures. I am still not working at a worky job right now, so any help you can send my way is greatly appreciated. Please visit my Support Page, There are many ways listed there for you to help out.
I set up an Amazon wish list. All of the items on the list are directly related to making this a great homestead.
Also I need a job. People have been great supporting me lately and I am very thankful, but if I buy the place I need to secure at least $2,000 per month to keep the property. If you can help me with this, please contact me kolomona@kolomona.com. I have tons of experience in the restaurant industry, a whole bunch of computer technical expertise and a bit of programming knowledge. I'd prefer some sort of work where I could do it from home, that way I can spend more time on building the homestead. Not to mention that gas is nearly $5 / gallon now, ouch!
For info about how you can support me visit My Support Page – It's all about value for value for value.
Thank you!
A very special thank you goes to my cousin Tina who has pledged to take care of my $173 / month storage bill! Thank you so very much.
If the rest of you can help me raise the $10,000 needed for the down payment then Tina could stop paying my storage as I would move everything here.
---
All Walkabout Posts, in order
I'm Going on a Sabbatical
The Journey Begins
Intro to Paul Wheaton and his Permaculture Properties
Walkabout Update 2 Wheaton Permaculture
Walkabout Update 3 Wolf Flats Idaho
Walkabout Update 4 Great Salt Lake Area, Utah
Walkabout Update 5 Vegas and Fiddletown CA
Walkabout Update 6 Off Grid Living
Walkabout Update 7 Lots of Rain and a Deer Fence
Walkabout Update 8 I am Soon to be Homeless With a Mortgage